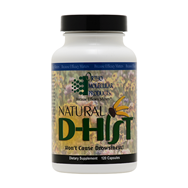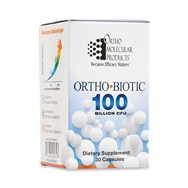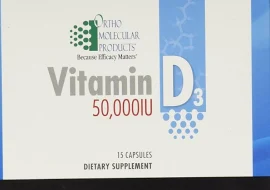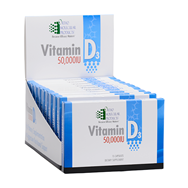 Vitamin D3 50,000 IU capsules:
Vitamin D is a steroid vitamin, a group of fat-soluble pro-hormones that are best known for the role they play in supporting bone health and aiding in the absorption of calcium in the gastrointestinal tract. A growing body of research highlights the critical role of vitamin D in supporting multiple body systems, including blood sugar balance, musculoskeletal strength, neurological and immune function. Deficiency has reached epidemic proportions around the world , making the achievement of optimal levels more important than ever to overall health and wellbeing This Vitamin D3 50,000 IU formulation is delivered as D3 (cholecalciferol) for optimal use by the body and provides an immediate boost to your vitamin D status. For your convenience, this product is available at all times in our office!
Natural D-Hist:
For over 20 years, Natural D-Hist has provided the ideal solution for the 40 million individuals who experience seasonal sinus and respiratory discomfort.
Supports Immune Balance in Hypersensitive Individuals by stabilizing the mast cell
Supports Sinus and Respiratory Health
Promotes Normal Viscosity of Mucus
Clears Nasal Passages
Just ask our awesome staff for a bottle to try! All our Ortho Molecular products have a 100% money back guarantee!
Sinatrol: 
40 million Americans are looking for sinus relief…address the ROOT cause!
Mucus Clearance: N-Acetyl-L Cysteine and Bromelain act as mucolytics and clear nasal passages
Throat Comfort: Andrographis and Eleuthero support the immune response and soothe the respiratory tract
Microbial Balance:  Thyme maintains appropriate microbial balance and treats fungal infection in sinuses
Sinus Pressure:  Turmeric helps control inflammation in sinus passageways
Sinatrol is available in a 12 ct pack or 60 ct bottle in our office!
Ortho Biotic 100 Billion CFU:
High-dose probiotics activate a unique immune response to calm the gastrointestinal tract and improve immune function in ways lower-dose probiotics cannot. Ortho Biotic 100 is a high-dose probiotic delivering 100 billion active cultures for cases of intensive GI and immune challenges. Going beyond the threshold of traditional probiotic support, Ortho Biotic 100 improves immune function, strengthens the gut-immune barrier and promotes inflammatory balance.
Formulated with broad-spectrum organisms that work with the GI tract, Ortho Biotic 100 provides 100 billion CFU to quickly restore balance of microflora in the gut
Ortho Biotic 100 contains a blend of 6 specialized strains selected for targeted GI and immune benefits. This combination of strains has been carefully researched, tested and selected for its ability to survive the harsh gastrointestinal environment and adhere to the intestinal tract
The microorganisms in Ortho Biotic 100 capsules are protected, sealed and released on-target using BioShield encapsulation technology. This maximizes the benefits of the probiotic formula, as the bacteria remain inactive until exposed to moisture in the intestinal tract. With this technology, Ortho Biotic 100 is stabilized and verified for room temperature storage
This product sells quickly! If you are interested, give our office a call to make sure we have a bottle in stock.